How to choose the right Greene King job for you
Are you ready to join us and be part of something that is truly special?
No matter who you are, or where you've come from, at Greene King, you'll be working alongside talented people who love what they do. And we're always on the lookout for like-minded foodies to join us on this delicious journey.
Whether you are a seasoned pro or a fresh-faced newbie who's just starting out, there is a place for you. Explore what you'll be doing with our role overviews and find a job you love with our tips below.
Head Office Jobs

Pub Management Jobs

Bar and Waiting Jobs

Brewing and Brands Jobs

Apprenticeships

Kitchen Jobs
Pin down your skills and interests
Step one has to be jotting down your skills and interests. After all, you want to find a job that will match your strengths and passions. That's the secret to being fulfilled in your role and bringing your A-game because when you're doing something you truly enjoy, putting in that extra effort just feels like a no brainer. Plus, think of the time you'll save applying to jobs that wouldn't be the perfect match.
Our values and culture
Before you join any company, you should think about its values and culture. Will they be a good fit for you? As we go on a journey to become the pride of British hospitality, our values and culture are more than words on a page.
Our teams live and breathe our values and fulfil our purpose of pouring happiness into lives every day. You are probably wondering, what are our values?
Customer-first
We care
Freedom to succeed
Take ownership
Win, learn and celebrate together
Whether you work at one of our pubs, restaurants, hotels, head offices, or breweries – our teams make us who we are. Our culture is based on empowering and uplifting our people, giving back to local communities, and creating joy.
Head Office Jobs
Working at happiness HQ, you'll be part of a team that keeps our 2,600 sites running smoothly and you'll have plenty of opportunities to choose from. Whether you enjoy ensuring our team members get the recognition, training, and support they need, or getting technical and ensuring our systems stand up to the demands of today, there is something for everyone.
Our HQ teams include HR, IT, Finance, Marketing and Digital, Property, Legal & Risk, Transformation, Trading, and Customer Service.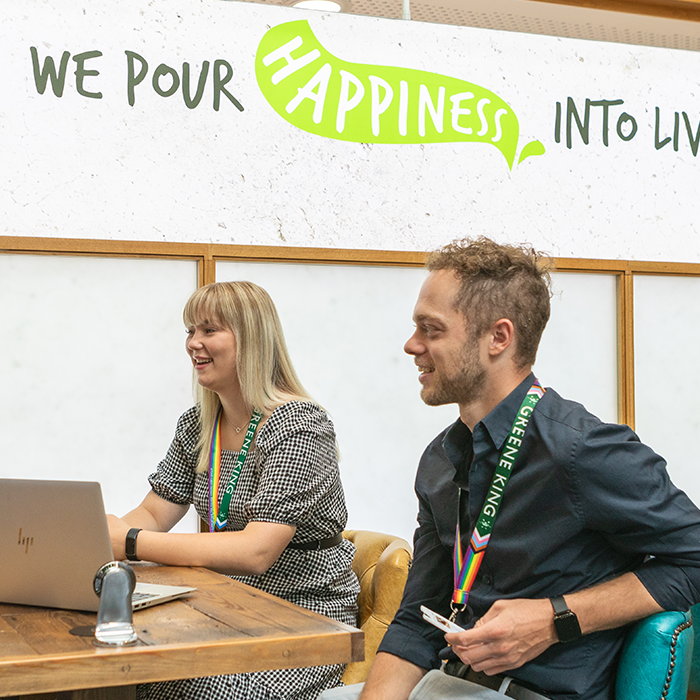 Have you got what it takes?
Our customers are at the heart of our business and the HQ teams keep the drinks flowing, helping us delight our customers. To be successful within these roles, you'll be organised and know what it takes to bring things to life. This is an opportunity to see your projects go from an idea to execution company-wide.
Pub Management Jobs
As Pub Management, you'll be heading up happiness at Greene King. Great pub experiences don't just happen, they are created in the details and that's where you come in. You'll lead a team to create warm and inviting experiences for every customer.
Our Pub Management jobs include General Manager, Assistant Manager, and Area Manager.
Have you got what it takes?
You'll be a natural leader with the ability to lead by example, motivate, inspire and manage a team. You're the first port of call and we'll rely on you to keep everything running smoothly.
Bar and Waiting Jobs
You'll be raising the bar by delivering outstanding value, unforgettable service, and unbeatable quality. At Greene King, we believe your role is more than just pouring a point or delivering food to tables, you are delighting our customers again and again. We are on a mission to become the pride of British hospitality and you'll be the face of this mission.
Our Bar and Waiting jobs include Bar Staff, Waiting Staff and Team Leaders.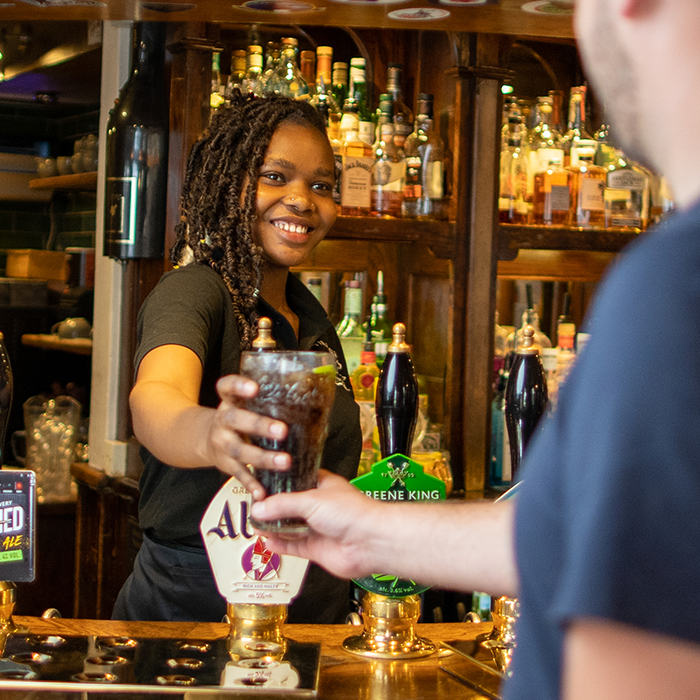 Have you got what it takes?
You'll have a flair for making people feel welcome and putting a smile on their faces. Patience and attention to detail are what will make our customers' experiences special.
Kitchen Jobs
From quick lunches to pub dinners, you'll be delivering delicious food day in and day out. If you love the heat of a kitchen and are hot on hygiene, cooking up happiness in the Greene King kitchens could be for you.
Our Kitchen jobs include Kitchen Manager, Chef, and Kitchen Assistant.
Have you got what it takes?
To work in the kitchen, you'll enjoy working in a fast-paced environment and keeping up with changing demands. For these roles, you'll be easily adaptable and reliable.
Brewing and Brands Jobs
In this team, you'll be bringing our award-winning beers to life. You might be finding new and exciting ways to make great beer or making sure our beers get to the pub. Whatever your role, you'll play a part in crafting perfect brews.
Our Brewing and Brands jobs include Brewery, Driving, Production, Warehouse and Logistics, and Sales and Marketing.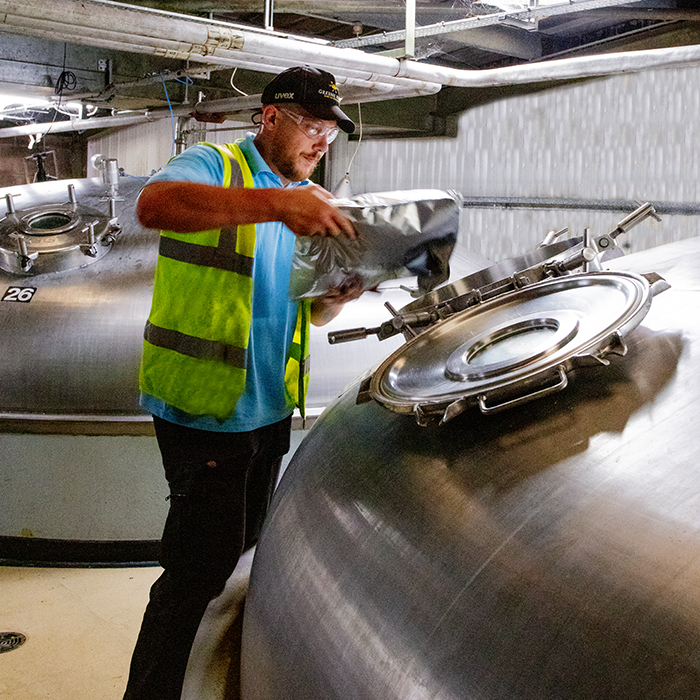 Have you got what it takes?
Depending on the role you go for, you'll have a combination of technical skills and industry knowledge and the eagerness to put these together to deliver perfection. This team are pros when it comes to working independently and as part of a team.
Apprenticeships
As a Greene King Apprentice, you will gain hands-on experience, and learn from seasoned professionals. Over the course of your Apprenticeship, you'll be working towards a nationally recognised qualification, all whilst getting paid.
Our Apprenticeships include a Chef Apprenticeship, Bar & Waiting Apprenticeship, and a Team Leader Apprenticeship.
Have you got what it takes?
With no entry requirements - we are looking for personality and passion! As an Apprentice, you'll be naturally curious and eager to learn.
Join one of Britain's best-loved hospitality brands
We want to make Greene King a place where all team members feel safe being who they are, so each person can reach their full potential and thrive at work. With plenty of room to progress and develop your career, you'll be pouring happiness into lives alongside our dedicated teams.
Find the right Greene King career for you.
Insight Executive - Brand & Product
Salary
Competitive Salary
Location
Sunrise House,Burton-upon-Trent,DE14 3JZ
Description
Your role as an insight executive will involve:Supporting the Insight Manager in leading a number of research programmes across food development, marketing, and brand. Including briefing, project set
Reference
6e864924-33ae-4ded-b36a-0650c5a00101

Apply now
Saved
National Account Manager On Trade
Salary
Competitive Salary + Bonus + Car
Location
Field Based National,National,B1 2NX
Description
Your role as National Account ManagerDeliver the agreed Leased & Tenanted Channel Volume & Profit TargetsEstablish strong working relationships with key contacts & functions across customers business.
Reference
8ffa7521-e842-48a5-a55f-409f6a62a961

Apply now
Saved
View all

PINT OF PERSPECTIVE: BONUS EPISODE 3
Summary
PINT OF PERSPECTIVE BONUS EPISODE 3: Charlotte Charlotte is a member of Greene Sky, the employee led inclusion group (ELIG) focused on amplifying the voices of women in the the Gre
Read more

Menopause in the workplace: introducing Greene King's new policy
Summary
Snippet Title Did you know that menopause affects approximately 51% of the UK population? This means at some point in your career, you, your family members, friends, or work colleagues may be d
Read more


Ellie's Journey: From Pub to Head Office at Greene King
Summary
Snippet Title At Greene King, you can unlock countless opportunities for career development, growth and learning. And one of our colleagues, Ellie, is a true testament to this.  We recently caug
Read more


Transferable skills you can gain in a Bar and Waiting job
Summary
Snippet Title When people think of Bar and Waiting jobs, they think of pouring pints and prepping orders for customers. But Bar and Waiting jobs are so much more than that.  In the hustle and bu
Read more


Introduction to Greene King's Employee-Led Inclusion Groups
Summary
Snippet Title Here at Greene King, inclusivity isn't just a buzzword, it's more than that. We're working hard to make Everyday Inclusion a reality for all our people, every day.  By listening to
Read more


Joanne's Journey to Operations Manager
Summary
With an impressive background in the world of hospitality, Joanne wanted a role which would allow her more freedom; she found herself knocking at the doors of Greene King.  Starting as a Gener
Read more


PINT OF PERSPECTIVE: EPISODE 4
Summary
PINT OF PERSPECTIVE EPISODE 4: Claire In the latest episode of Pint of Perspective, we talk to the brilliant, inspiring Claire about the effects of menopause on women in the workp
Read more


How Natalia went from a seasonal temp to building a successful career at Greene King
Summary
Snippet Title As the holiday season approaches us, we've got a lot of exciting job opportunities waiting for you. Seasonal jobs can be a great way to earn extra income whilst enjoying festiviti
Read more


PINT OF PERSPECTIVE: EPISODE 3
Summary
PINT OF PERSPECTIVE EPISODE 3: Sherice In this episode, we speak to Sherice. She's a Brand Lead at Greene King and a member of Unity—an employee led inclusion group or 'ELIG' that provides
Read more


What is Internal Mobility and why is it important?
Summary
Snippet Title At Greene King, we are on a journey to create an environment where everyone enjoys and has access to equal opportunities to grow and succeed. Recognising the importance of interna
Read more

View all