What is Internal Mobility and why is it important?
Snippet Title
At Greene King, we are on a journey to create an environment where everyone enjoys and has access to equal opportunities to grow and succeed. Recognising the importance of internal career progression, we've proudly introduced our Internal Mobility Commitments as a central pillar in our Greene Sky strategy. These commitments are geared towards fostering career development and equality through our organisation, with a shared goal of ensuring that every employee of Greene King can truly thrive.
Why Internal Mobility Matters to us at Greene King?
Snippet Title
Internal Mobility is more than just a buzzword for us; it's a fundamental part of our commitment to each employee of Greene King. Our aim is to foster an environment where our exceptional employees can embark on diverse career journeys. In doing so, we're not only investing in the growth of Greene King but also in the growth of each individual.
Our Internal Mobility Commitments
Snippet Title
Our Internal Mobility Commitments serve as the blueprint for our approach to internal career progression, and they are crafted with heartfelt intent to empower our employees to unlock their potential.

1. Advertising all vacancies
We advertise all our job openings, including those up to the Director level, to ensure that everyone within Greene King has visibility of all the opportunities we have available.

2. Detailed Feedback
We are committed to providing detailed feedback to all candidates, regardless of the outcome of their application. This feedback is invaluable for personal growth and future career success.

3. Expedited Moves
When individuals are successful in their applications, we expedite their transition to their new roles. This not only reduces disruption but also demonstrates our dedication, to their career progression.
Snippet Title
Our Internal Mobility commitments are a top priority because they align with the core of our strategy, specifically within our Greene Sky 'Promoting Careers' pillar. We recognise that the diverse opportunities available within Greene King offer the potential for fulfilling careers, and we are dedicated to supporting our people in realising this potential.

We are committed to encouraging sustainable engagement among our employees. By fostering a culture of internal mobility, we not only want to boost job satisfaction but also curb turnover, resulting in a more stable and dedicated workforce. This, in turn, contributes to the enduring growth and prosperity of Greene King, a win-win for both our valued employees and our company's future. As part of this journey, we've implemented initiatives such as career events, CV health checks, and personalised development plans which will continue through into 2024.

Furthermore, through accessible career development, and gender equality plans, we're fostering an inclusive environment where everyone can thrive. Our dedication to diversity and inclusion propels us toward our goal of 50% of women in senior leadership roles by 2030.

Likewise, by championing accessible career development and gender equality initiatives, we're actively supporting an inclusive environment where each and every member of our team can truly flourish. One of the various initiatives we've introduced to assist this is our new maternity policy. These efforts are guided by recent findings that show an outlook shared by approximately 10% more women than men who believe that the current state of statutory maternity leave in the UK could use some improvement to better meet the needs of working women.


What our employees have to say...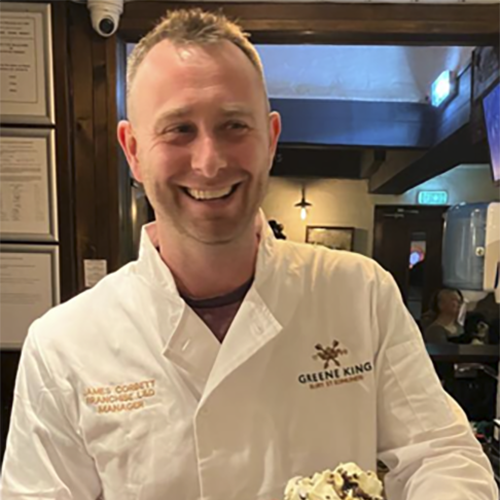 'Greene King has allowed me the freedom to figure out what I enjoy doing and pursue that passion while helping me to network with wider teams, build great relationships and surround myself with people that know the answer.'

James Corbett - Franchise Learning & Development Manager
read more
'I feel cared for and invested in by Greene King. Throughout my career at Greene King, I have been provided development, advice, feedback and support by peers, managers, leadership team members and the exec board. The business has had faith in me at every step of my journey.'

Penny Baldwin - Franchise Operations Director - Partnerships & Ventures division, Pub Partners Business Unit.
read more
Snippet Title
At Greene King, we believe that diversity and internal mobility are key drivers of success. Our internal mobility commitments are more than just words on paper, they are the foundation of a culture that fosters growth, equality, and opportunity for all. Together at Greene King, we can create a workplace where every individual can have a fulfilling career and thrive in their journey with us.

PINT OF PERSPECTIVE: BONUS EPISODE 3
Summary
PINT OF PERSPECTIVE BONUS EPISODE 3: Charlotte Charlotte is a member of Greene Sky, the employee led inclusion group (ELIG) focused on amplifying the voices of women in the the Gre
Read more

Menopause in the workplace: introducing Greene King's new policy
Summary
Snippet Title Did you know that menopause affects approximately 51% of the UK population? This means at some point in your career, you, your family members, friends, or work colleagues may be d
Read more


Ellie's Journey: From Pub to Head Office at Greene King
Summary
Snippet Title At Greene King, you can unlock countless opportunities for career development, growth and learning. And one of our colleagues, Ellie, is a true testament to this.  We recently caug
Read more


Transferable skills you can gain in a Bar and Waiting job
Summary
Snippet Title When people think of Bar and Waiting jobs, they think of pouring pints and prepping orders for customers. But Bar and Waiting jobs are so much more than that.  In the hustle and bu
Read more


Introduction to Greene King's Employee-Led Inclusion Groups
Summary
Snippet Title Here at Greene King, inclusivity isn't just a buzzword, it's more than that. We're working hard to make Everyday Inclusion a reality for all our people, every day.  By listening to
Read more


Joanne's Journey to Operations Manager
Summary
With an impressive background in the world of hospitality, Joanne wanted a role which would allow her more freedom; she found herself knocking at the doors of Greene King.  Starting as a Gener
Read more


PINT OF PERSPECTIVE: EPISODE 4
Summary
PINT OF PERSPECTIVE EPISODE 4: Claire In the latest episode of Pint of Perspective, we talk to the brilliant, inspiring Claire about the effects of menopause on women in the workp
Read more


How Natalia went from a seasonal temp to building a successful career at Greene King
Summary
Snippet Title As the holiday season approaches us, we've got a lot of exciting job opportunities waiting for you. Seasonal jobs can be a great way to earn extra income whilst enjoying festiviti
Read more


PINT OF PERSPECTIVE: EPISODE 3
Summary
PINT OF PERSPECTIVE EPISODE 3: Sherice In this episode, we speak to Sherice. She's a Brand Lead at Greene King and a member of Unity—an employee led inclusion group or 'ELIG' that provides
Read more


Why working in a pub is the best seasonal job
Summary
Snippet Title Thinking about working during the festive season this year? This is your sign to go for it!  The lively and welcoming atmosphere of a pub is next to none and promises an enjoyable
Read more

View all