5 tips to ace your next interview
Are you feeling anxious about an upcoming job interview? Don't worry, you're not alone. Interviews can be nerve-wracking, but with the right preparation and mindset, you can ace it! We'll provide you with some valuable interview tips and tricks that will help you feel more confident and prepared. So, let's dive in and get you one step closer to landing your dream job!
1. Research the company.
An important part of being ready for an interview is learning as much as possible about the organisation you'll be meeting with. Researching the company shows that you have a genuine curiosity about the business. The company's website and social media are the best places to start (You can check out our website here).
Companies all have their own unique culture so, it's important to research before your interview. No one wants to work for a company whose missions and values don't align with their own (check out Greene King's values and behaviours here). When a company's values and mission align with yours, it can lead to greater job satisfaction, motivation, and engagement!
It's also important to research the company's competitors, or any recent news or developments. Not only will this prepare you for questions that may be asked during the interview, but it will also provide you insight into the company's culture.
2. Prepare your answers.
Preparing strong responses to standard interview questions allows you to confidently highlight your experiences and skills. A great method to help you do this is using STAR!
Snippet Title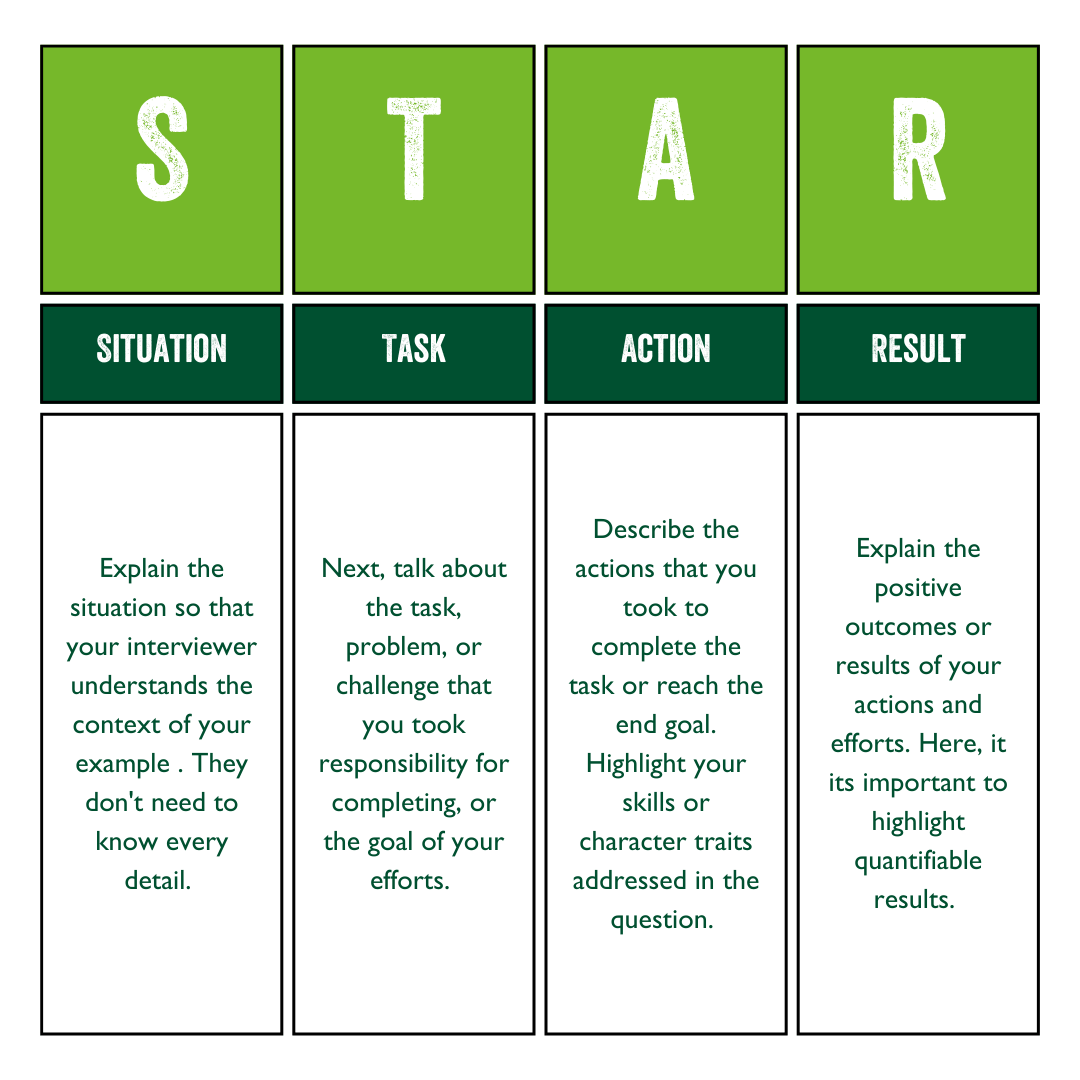 To utilise the STAR method, start by identifying specific situations or challenges you faced in your current or previous roles. You can then define the tasks or goals you had to accomplish within those situations and go on to explain the actions you took highlighting your skills. It's then important to discuss the results you achieved.
Using this process allows you to provide clear and concise responses that showcase your abilities, problem-solving skills and also your positive outcomes, leaving a lasting impression on your interviewer.
3. Ask questions
Asking questions during an interview is not only an opportunity to gather information but also a chance to demonstrate your interest and curiosity in the conversation. It's highly likely that potential employers will expect you to have questions for them – here are some examples to help you out:
Can you tell me more about the company culture and what it's like to work here?
How would you describe the typical career progression for someone in this role?
What are the main challenges or opportunities the company is currently facing?
How do you measure success in this role, and what are the key performance indicators?
Are there any specific projects or initiatives that the team is currently working on?
Remember, interviews are not just about the employer evaluating you, they also provide an opportunity for you to assess whether the company and the role align with your goals and expectations.
4. Be yourself
When it comes to interviews, one of the most valuable tips is to simply be yourself. Not only does this help create an inclusive environment, but it also avoids the pitfalls of pretending to be someone else. Maintaining a persona can be draining and may pose challenges in the long run. By staying true to yourself in an interview, you increase your chances of finding a company that aligns with your values, leading to a better cultural fit.
Likewise, being authentic also promotes long-term success as you are more likely to find a role where you can thrive and feel fulfilled. Embracing your true self in interviews opens doors to opportunities that are a perfect match for your unique strengths and aspirations.
Snippet Title
5. Stay calm and confident
Interviews can be nerve-wracking, but try to stay calm and confident throughout the process. Take a few deep breaths before entering the interview room. Maintain eye contact, smile, and speak clearly. Remember that the interview is an opportunity for you to showcase your skills and qualifications, so believe in yourself and your abilities.


Remember, interviews are not just about finding the perfect candidate for the company; they are also about finding the right fit for you. Be genuine and authentic, and let your true self shine during the interview. Good luck!
Insight Executive - Brand & Product
Salary
Competitive Salary
Location
Sunrise House,Burton-upon-Trent,DE14 3JZ
Description
Your role as an insight executive will involve:Supporting the Insight Manager in leading a number of research programmes across food development, marketing, and brand. Including briefing, project set
Reference
6e864924-33ae-4ded-b36a-0650c5a00101

Apply now
Saved
National Account Manager On Trade
Salary
Competitive Salary + Bonus + Car
Location
Field Based National,National,B1 2NX
Description
Your role as National Account ManagerDeliver the agreed Leased & Tenanted Channel Volume & Profit TargetsEstablish strong working relationships with key contacts & functions across customers business.
Reference
8ffa7521-e842-48a5-a55f-409f6a62a961

Apply now
Saved
View all

PINT OF PERSPECTIVE: BONUS EPISODE 3
Summary
PINT OF PERSPECTIVE BONUS EPISODE 3: Charlotte Charlotte is a member of Greene Sky, the employee led inclusion group (ELIG) focused on amplifying the voices of women in the the Gre
Read more

Menopause in the workplace: introducing Greene King's new policy
Summary
Snippet Title Did you know that menopause affects approximately 51% of the UK population? This means at some point in your career, you, your family members, friends, or work colleagues may be d
Read more


Ellie's Journey: From Pub to Head Office at Greene King
Summary
Snippet Title At Greene King, you can unlock countless opportunities for career development, growth and learning. And one of our colleagues, Ellie, is a true testament to this.  We recently caug
Read more


Transferable skills you can gain in a Bar and Waiting job
Summary
Snippet Title When people think of Bar and Waiting jobs, they think of pouring pints and prepping orders for customers. But Bar and Waiting jobs are so much more than that.  In the hustle and bu
Read more


Introduction to Greene King's Employee-Led Inclusion Groups
Summary
Snippet Title Here at Greene King, inclusivity isn't just a buzzword, it's more than that. We're working hard to make Everyday Inclusion a reality for all our people, every day.  By listening to
Read more


Joanne's Journey to Operations Manager
Summary
With an impressive background in the world of hospitality, Joanne wanted a role which would allow her more freedom; she found herself knocking at the doors of Greene King.  Starting as a Gener
Read more


PINT OF PERSPECTIVE: EPISODE 4
Summary
PINT OF PERSPECTIVE EPISODE 4: Claire In the latest episode of Pint of Perspective, we talk to the brilliant, inspiring Claire about the effects of menopause on women in the workp
Read more


How Natalia went from a seasonal temp to building a successful career at Greene King
Summary
Snippet Title As the holiday season approaches us, we've got a lot of exciting job opportunities waiting for you. Seasonal jobs can be a great way to earn extra income whilst enjoying festiviti
Read more


PINT OF PERSPECTIVE: EPISODE 3
Summary
PINT OF PERSPECTIVE EPISODE 3: Sherice In this episode, we speak to Sherice. She's a Brand Lead at Greene King and a member of Unity—an employee led inclusion group or 'ELIG' that provides
Read more


What is Internal Mobility and why is it important?
Summary
Snippet Title At Greene King, we are on a journey to create an environment where everyone enjoys and has access to equal opportunities to grow and succeed. Recognising the importance of interna
Read more

View all