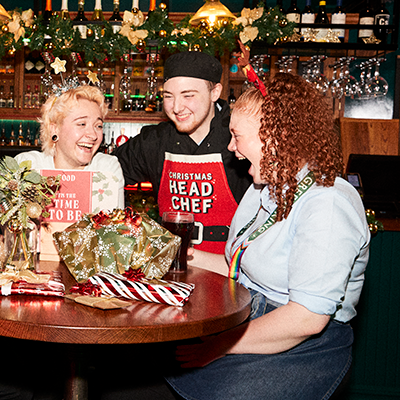 SEASONAL JOBs Now Open...
AS THE FESTIVE SEASON UNFOLDS, WE'RE ON THE LOOKOUT FOR MERRY SOULS TO JOIN OUR TEAMS AND ADD AN EXTRA DASH OF MAGIC THIS CHRISTMAS IN OUR PUBS.
Our pubs are often at the heart of many celebrations and you could be a part of spreading the joy, and pouring happiness this Christmas. Whether it's working behind the bar or in the kitchens, join us this Christmas and experience the real magic of working in pubs.
Apply for Seasonal Jobs
List #1
Jobs you might like...
Insight Executive - Brand & Product
Salary
Competitive Salary
Location
Sunrise House,Burton-upon-Trent,DE14 3JZ
Description
Your role as an insight executive will involve:Supporting the Insight Manager in leading a number of research programmes across food development, marketing, and brand. Including briefing, project set
Reference
6e864924-33ae-4ded-b36a-0650c5a00101

Apply now
Saved
Kitchen Manager
Salary
£28,000 - £30,000 + Bonus
Location
White Elephant (Northampton),Northampton,NN2 7HG
Description
As a Kitchen Manager, you will… Take the reins in the kitchen, whether you are making decisions or coming up with fresh ways to help the team run better together.  Communicate clearly with your team i
Reference
c65b519d-1032-4d8b-96bc-75cb638957a3

Apply now
Saved
Assistant Manager
Salary
Competitive Salary + Bonus
Location
John Gilbert (Worsley),Worsley,M28 2YA
Description
What you'll do as an Assistant Manager...  Support the General Manager in the day to day running of the business and leading the business in their absence.   Bring our brand to life by leading the tea
Reference
3f714ac2-31e3-4e92-8bf2-06b1e5c31373

Apply now
Saved
View all

PINT OF PERSPECTIVE: BONUS EPISODE 3
Summary
PINT OF PERSPECTIVE BONUS EPISODE 3: Charlotte Charlotte is a member of Greene Sky, the employee led inclusion group (ELIG) focused on amplifying the voices of women in the the Gre
Read more

Menopause in the workplace: introducing Greene King's new policy
Summary
Snippet Title Did you know that menopause affects approximately 51% of the UK population? This means at some point in your career, you, your family members, friends, or work colleagues may be d
Read more


Ellie's Journey: From Pub to Head Office at Greene King
Summary
Snippet Title At Greene King, you can unlock countless opportunities for career development, growth and learning. And one of our colleagues, Ellie, is a true testament to this.  We recently caug
Read more


Transferable skills you can gain in a Bar and Waiting job
Summary
Snippet Title When people think of Bar and Waiting jobs, they think of pouring pints and prepping orders for customers. But Bar and Waiting jobs are so much more than that.  In the hustle and bu
Read more


Introduction to Greene King's Employee-Led Inclusion Groups
Summary
Snippet Title Here at Greene King, inclusivity isn't just a buzzword, it's more than that. We're working hard to make Everyday Inclusion a reality for all our people, every day.  By listening to
Read more


Joanne's Journey to Operations Manager
Summary
With an impressive background in the world of hospitality, Joanne wanted a role which would allow her more freedom; she found herself knocking at the doors of Greene King.  Starting as a Gener
Read more


PINT OF PERSPECTIVE: EPISODE 4
Summary
PINT OF PERSPECTIVE EPISODE 4: Claire In the latest episode of Pint of Perspective, we talk to the brilliant, inspiring Claire about the effects of menopause on women in the workp
Read more


How Natalia went from a seasonal temp to building a successful career at Greene King
Summary
Snippet Title As the holiday season approaches us, we've got a lot of exciting job opportunities waiting for you. Seasonal jobs can be a great way to earn extra income whilst enjoying festiviti
Read more


PINT OF PERSPECTIVE: EPISODE 3
Summary
PINT OF PERSPECTIVE EPISODE 3: Sherice In this episode, we speak to Sherice. She's a Brand Lead at Greene King and a member of Unity—an employee led inclusion group or 'ELIG' that provides
Read more


What is Internal Mobility and why is it important?
Summary
Snippet Title At Greene King, we are on a journey to create an environment where everyone enjoys and has access to equal opportunities to grow and succeed. Recognising the importance of interna
Read more

View all