Brew it, sell it, enjoy it.
Join the team that brews, distributes, and brings to life our award-winning crafted ales for customers across the UK and the world. Whether you have hands full of hops on the brewery floor, fill the bottles that refresh the nation, or keep the shelves stocked with our beers, you'll keep the happiness flowing in Brewing and Brands.
Did you know that we brew around 150 million pints a year? That's enough to fill 34 Olympic swimming pools! We have a rich brewing history; in fact, our Westgate Brewery in Bury St. Edmunds has been brewing continuously since 1799, and our Belhaven Brewery in Dunbar has been brewing for more than 300 years!
No matter where you're based, you'll bring a huge variety of brews to the table –– from traditional ales to cutting edge brews bursting with zesty hops. Deliver Greene King staples like Greene King IPA, Old Speckled Hen and Belhaven Best. Promote seasonal favourites like Scrum Down and Rocking Rudolph, and get experimental with two new modern beers, like Flint Eye –– Greene King's new 4.5% dry hopped lager –– and Level Head, our new 4% session IPA.
Brewing some of the nations' favourite beers can bring its challenges, but it's extremely satisfying.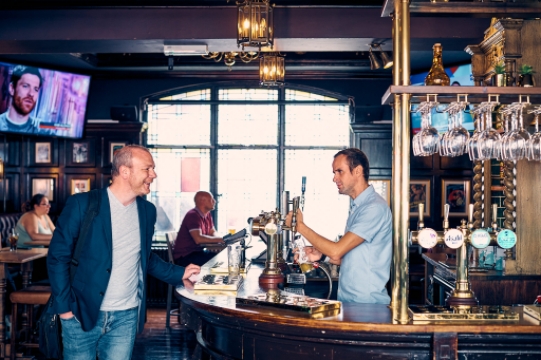 Sales
Do you have a passion for all things beer? Why not put Greene King brews in the hands of millions the world over by jumping aboard our brewery sales team? With roles in Free Trade Sales, National Accounts, Export Sales, and Take Home Sales, you can put your skills of persuasion to use in many ways. You can big up our brands to wholesalers, retail groups and pub companies, take our beers global, or focus on local partnerships. Whichever arm of the team you choose, we'll support you in reaching your ambitions as you help us exceed ours!
From Belhaven to Bury St. Edmunds, Want to Join Our Team?
Support
Our Support teams keep our breweries running and the beer flowing. Join us in Brewing and Distribution, Marketing, Finance, Human Resources, Customer Care or Customer Sales, and do behind-the-scenes work that puts us at the forefront of our industry.
When you join our Support team, you're one of our marketing gurus spreading our message. Regardless of your role, you find, manage, develop and support our people . No matter which Support team you're in, your work is vital to the continued success of Greene King.